This is lesson six. It will show you how to make a stationery using positioned containers and positioned images. To see the final result, please click here. To download a zip file with all of the images that you will see here as well as the sound file included, please click here.

Open up Scrippy and add a background. Browse for the background image called lpurple_pat1.jpg and choose it.





Make sure to set the scrolling feature to up and right.

Next, insert a positioned container and use the settings as shown below.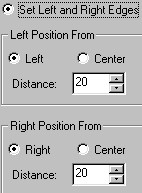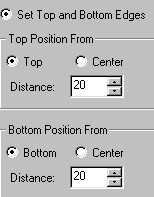 Here is what you should have at this point.

Under this container we are going to add three more articles, a background, a frame and another positioned container.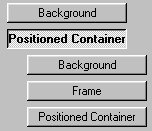 Click on your positioned container and go to insert - background. Now browse to find the background called dblue.jpg and choose it.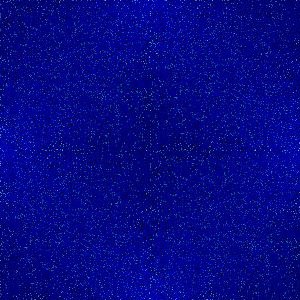 Change the background to scroll down and to the left.

Click on the positioned container again and Insert - Frame. Use the color as shown. The numbers for it are Red 191 Green 191 and Blue 255. You can always choose another color if you don't like this one. Make this a double frame of 10 pixels and choose 'place over background'.

Next, we are going to add another positioned container and we are going to use the same exact settings as before, image as shown below.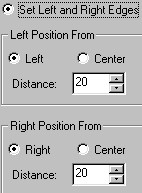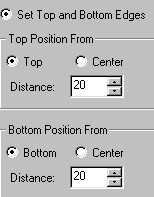 Here is what you should now have. Make sure that the background, frame and positioned container fall under the first positioned container as this is important. Failure to have your settings as shown will result in the images and backgrounds not showing up properly.
Click on the second positioned container and go to Insert - Background. Choose the lpurple_pat1.jpg again but this time we do not want the background to scroll.

Now insert another frame, first making sure to click on the second positioned container so that it gets put into the right place. Use the exact same settings and color as before, double style, pixel width of 5. Colors are Red 191 Green 191 and Blue 255.

Making sure that the second positioned container is still chosen, go to Insert and Choose Positioned Object - Positioned Image.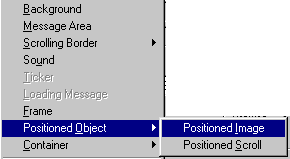 Click on the Browse button and go to find the image as shown called pflowerright.gif and select it. Make this 5 from the left and 5 from the top even though it doesn't show that in this image below.
Insert another positioned image and browse for the image named pflowerleft.gif and select it. The second image's settings will be as shown. Change the settings to 5 and 5 as before.
Making sure that the second positioned container is still selected, go back to Insert - Positioned Object and choose Positioned Image Again. Now select the image as shown which is called top_design.gif. Use the settings as shown. Notice it is centered and from the top. This places our image at the top of the positioned container and yet centers it. **Change this to make the image be 5 pixels from 'the top'.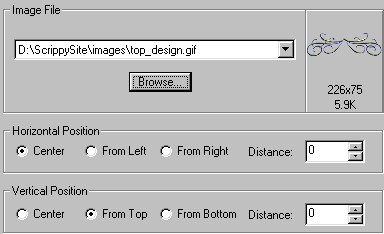 This is how your master scrippy should now look.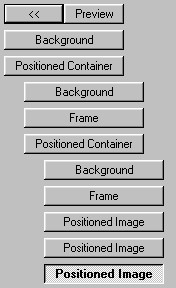 Adding a Message Area, Ticker, Sound and Loading Message
We will insert a message area next. Although it may seem as though you could place this message area inside of your positioned container, it will not show up as you expect. So, for that reason, make sure that your positioned container is not chosen. If this proves difficult, simply click on the very first background shown and then go to Insert - Message Area. If it gets placed in the wrong spot you can click on it and move it to the left where it needs to be. Here is what the final master scrippy will look like for the next three areas.

Set the left and right margin to 120. Set the top margin to 200 and the bottom margin to 40. This will be an expanding message area.
Click on Insert - Ticker and change the settings to whatever you prefer and change the message to say something to personalize your stationery. As before, I use the settings as shown.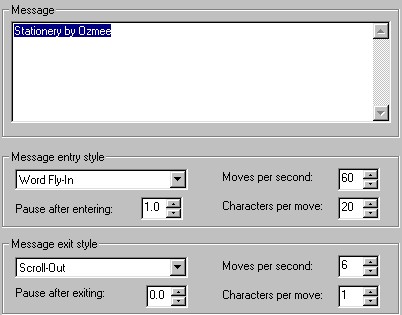 Now click on Insert - Sound and scroll to your music directory to choose a nice sound to go with your new stationery.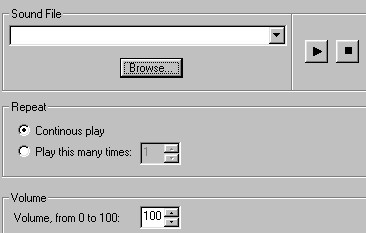 The last item is to include a loading message. You may have noticed that even if you do not include this in your ssc file, Scrippy does include one for you. It is much better to have one set up the way you want it rather than having a plain white background with a Scrippy set message there of 'Loading". Go to Insert - Loading Message. Now you can make this more personalized. Use a color of background that matches what you have made. I used the colors that we chose for the frame, Red 191 Green 191 and Blue 255. Now you can include an animation or other graphic under your message. Change the message to say whatever you'd like. Some people put something like 'Here it comes' or 'Hold your horses' but you can put anything you'd like. Try to keep your viewing time to no more than 1.5 unless your animation needs a higher number. If you want to put a graphical background in your loading message and do not know how, please refer to the Scrippy Tips.
Save your stationery in the desired manner. Please see left border scroll if you need help deciding how to save it, the second page has the instructions on how to save and what choices you have.
Hope your stationery turned out really nice! Of course, these graphics are simply for this lesson and you can use any graphics you'd like. If you'd like to use these, then that is always permissible as I allow all of my graphics to be freely used at any time.

This website and all content may be freely copied, reproduced or shared without prior permission from the webmaster. All graphics represented here are originals (other than lesson pictures) and all tutorials are provided by the webmaster.
Created by Ozmee, May 2001
ŠOzmee 2001, 2002